Casa Patricia was designed and built by a local builder.  This lovely home will sleep up to eight people.  The two upstairs larger bedrooms offer king-size beds while the smaller downstairs bedroom has two singles, each room fully air conditioned.  There is a queen-sized air mattress for an emergency accommodation.  We also have a lovely palapa deck  with two very comfortable hammocks overlooking a lush, mature tropical garden and pool with waterfall.  A large patio is partially covered with a bougainvillea arbor, excellent for morning coffee or evening cocktails.  Casa Patricia is completely furnished with hand-made furniture, fully-equipped kitchen and includes maid, gardening, and pool service.  Bicycles are available for guests as well as a rinse tank, drying line and hooks for divers.  Dive operations Albatros Charters and Sergio Sandoval who dove with Jacques Cousteau are neighbors just a block away as well as fishing charters and island/jungle tours.  Bookmark our page first and then use these links:                      http://www.albatroscharters.com/
http://www.cozumelsafediving.com/ 
                 
Pat & Steve Hamp are divers who have been coming to Cozumel for twenty years.  Pat is a nurse administrator and Steve is a civil engineer in New Jersey.  They have purchased a superb home in the Corpus Christi section of Cozumel and have taken great time, effort and financial expense to provide an exceptional vacation retreat.  This is a home away from home for both you and them in every sense with all of the modern conveniences and located so that you will not have to rent cabs to enjoy the true island life that Cozumel provides.
At Casa Patricia you will find, in addition to all of the modern conveniences to which you are accustomed, a very helpful booklet showing what you need to know about living in our casa as well as where to go for your enjoyment.  Restaurants, dive operators, shopping and a myriad of other aspects of island life are at your disposal.  A helpful map is also provided to get you to your destination whether it be the dry cleaners or local bakery.  We have spent a great deal of time here living this island life and can direct you to the most reasonable and convenient establishments.  Our very satisfied customers have made worthwhile suggestions as to what they prefer and we constantly update our booklet.
The cost is based on the number of guests and time of year. Per night costs can run from $50 to $250 (plus 12% tax and $200 refundable security deposit).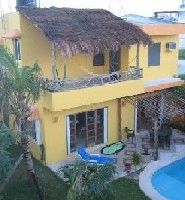 |  |  |  | 
Copyright © 2004 Privately owned by Pat & Steve Hamp, New Jersey, U. All Rights Reserved.