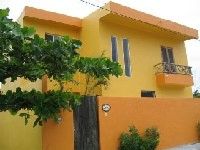 Close your eyes and imagine an ever-present island breeze cooling your face and body.  Listen to the breeze rustle the leaves of mature coconut palms, banana trees or wind chimes.  Hear the wings of humming birds stopping by at the lovely hibiscus shrubs or feeder, or the crazy caws or whistles of the local black birds.  Wait, that different sound must be an iguana sunning himself in the palm or on top of one of our walls or possibly the pool waterfall.  Our resident tree frog announces sunset with a short symphony and the geckos begin their mating chirps.  Amigos, open your eyes now and take in Casa Patricia because all of this happens daily in our own backyard.  Just another day in Paradise !!!
Casa Patricia is American owned and operated and located in Cozumel's premier residential area - Corpus Christi. With a view of the beautiful Corpus Christi Cathedral (below), the three-bedroom, three-bath home with private pool is four blocks from the ocean front and boat dock. Since we are a five-minute walk to the island's two largest grocery stores and a ten-minute walk to the central plaza; this a very de-sirable location.  Scores of local restaurants are within a few minutes walk or bike ride.

You will find a microwave, toaster, coffee maker, gas stove, blender, refrigerator, washing machine, all kitchen utensils, cable TV, VCR and DVD player, internet, US telephone, CD/AM/FM player, bottled water, four bicycles, beach/bath towels and linens.

At this price you will not find a better place to stay in Cozumel! The following four pages will provide you with contact information, prices and pictures of this tremendous vacation value. Please book your stay with us as soon as possible.